School
Preschool
SACRED HEART PRESCHOOL
Assistant Director - Allison McManus
Office - Lavette Perea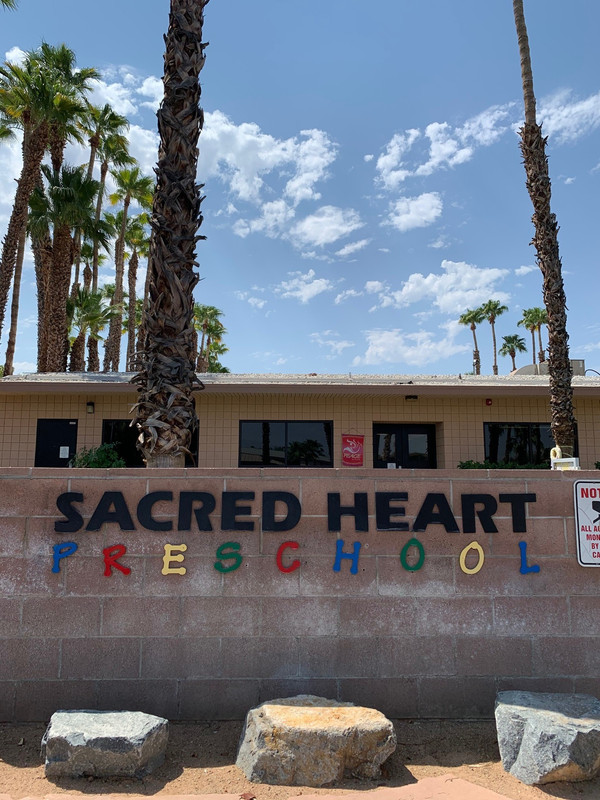 The mission of Sacred Heart Preschool: to teach as Jesus did.
The Sacred Heart Preschool community is committed to modeling and teaching Catholic Christian morals and values, while creating a caring, respectful environment which promotes academic excellence and fosters a love for learning.

Sacred Heart Preschool is proud to be recognized as a

NAP SACC(Nutrition And Physical activity Self-Assessment for Child Care) Certified school site with

the Riverside County Department of Public Health and First 5 California.

This certification is achieved by creating, promoting and implementing physical activity and healthy food policies and practices to help children embrace a Healthy lifestyle

and set the groundwork for lifelong healthy habits. Healthy Eating and Active Living.

Sacred Heart Preschool is also proud to carry the title of being an Asthma Friendly Site with

Loma Linda University in partnership with First Five Riverside & El Sol Neighborhood Educational Center.

This means Sacred Heart Preschool has successfully met the standards established by the National Heart, Lung and Blood Institute to create an asthma friendly educational center.

Preschool Preliminary Applications

Applications for the 2020/2021 school year

is only available at the Preschool office.

43775 Deep Canyon Road, Palm Desert

*Please bring a copy of your child's Baptismal Certificate, birth certificate and immunization records.


If you have any questions or concerns, please call

the Preschool office at (760) 674-3000.

Thank you and

Peace be with you.




Tours of the School by appointment only.

Daily Drop Off begins at 7:30 a.m. with Flag Salute promptly at 8 a.m.
Please refer to classroom web pages for individual class schedules.
Classrooms:
Red Room
Peace Keepers
Pre-Kindergarten
Green Room
Little Hearts
Pre-Kindergarten
Blue Room
Blue Angels
Full-Time Pre-School
Purple Room
Loving Spirits
Full-Time Pre-School